May 12, 2016
Summer '16 Carrier Update Series Pt. 2:

Not Authorized? Fix it with Automation
By: Patrick Masi
In my last post, we learned more about how Producer Manager can help monitor sales activities. We saw it verify a producer's authorization status in real-time by checking that the proper regulatory credentials are in place for the insurance or securities product being sold. If you are a Producer Manager subscriber, maybe you even found the "Verify Sales Authorization" button on a producer's record and gave it a try*.
Now let's press the system to do more for us.
Instead of asking "is this producer authorized?" what if the question becomes "how do I get this producer authorized?" That's really what's happening during an onboarding process – the producer is being set up to sell certain kinds of policies in a state. The Producer Manager sales authorization rules make a great checklist for doing just that.
But here's the twist - it's not always the case that producers are getting set up to sell just one product type in one state. They sometimes ask to be set up to sell 10 products in 10 states across 5 underwriting companies. Do we really have to manually request 500 authorizations to make that happen?
Of course not. You can automate that!
Let's look at an example with Producer Express?. A brand new agent is being set up to sell Homeowners and Private Passenger Automobile policies in Indiana, Michigan and Ohio. Producer Express ran all the authorization verifications for us, and came back with a yes/no answer for all the combinations of state and product type we asked for.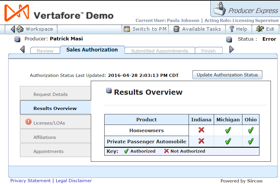 Now here's the real fun part that saves all sorts of time and improves accuracy. Check out the results in Michigan and Ohio. Why is the answer "okay to sell" in those states if we didn't submit appointment requests yet?
It might make sense if this agent was moving from one agency to another and already had those appointments. But I said we're seeing this producer for the first time, so while he had proper licenses in Michigan and Ohio, there were no appointments previously.
It might also make sense if these were Just-In-Time (JIT) appointment states that do not require appointments yet. In that case, Producer Express would know to just check the licenses, LOAs and other rules, ignoring appointments. But nope, that's not what's going on.
Here's what happened - Producer Express submitted those appointments for us, automatically, turning a "no" into a "yes". You can even see those requested appointments on the "Submitted Appointments" tab. Thanks Producer Express!
Between our sales authorization rules engine and our onboarding automation workflows, we're really set up to do some powerful, time-saving stuff. But we still need one more piece.
You.
Come back next time to learn more about the importance of self-service administration of your distribution management systems.
* Need help learning how to use this feature? Check out our comprehensive Producer Manager user guide "A Guide to Producer Sales Authorizations" by clicking the "Help" link in Producer Manager, then navigating to "Printable Help Guides > Setting Up and Checking Producer Sales Authorization". Or, as always, you could just reach out to our Sircon support team and they'll help you get started.
Learn more about sales authorization and our Producer Manager capabilities.
---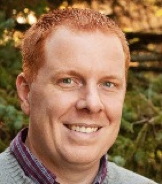 Patrick Masi
Patrick Masi is a Senior Product Manager for Vertafore where he works with developers and sales to help carriers deliver outstanding agent experiences. Patrick is a graduate of the University of Michigan, a former software developer, and an avid hockey player who makes the best out of the seemingly endless Michigan winter. Follow him on Twitter @pjmasi and on LinkedIn at www.linkedin.com/in/pjmasi/.