September 20, 2018
Drive Speed to Market with Change Management
By: John Paddock
When you think back on your history of launching new initiatives, projects or changes to any part of your organization, you are probably met with a host of memories and experiences that run the gamut from terrific to ones that you wish you could erase from your memory altogether.
In the insurance industry, especially those concerned with compliance, operations and IT departments continually challenge themselves to reduce the cost of operations and to position their IT infrastructure and capabilities for now and in the future. We see many teams struggle with the complex process of managing the producers and ongoing compliance with the states. There are numerous manual activities that require increased staff to manage and move data as needed across the environment.
You know change is constant, and so do we. But I wanted to show how an effective change management program, when implemented correctly, can help you and your organization achieve major objectives in
Improving the speed, efficiency and cost effectiveness of implementing new changes
Increase employee engagement, advocacy and support
Some initiatives don't go as well as you might have desired. You may have observed examples of missing information, unclear objectives of the effort, insufficient training leading to a lack of organizational support for the changes.
In hindsight, you can often gauge the success and speed of implementing the change and draw a straight line to a few core themes:
active and visible leadership support for the change
an expressed objective for the rationale and benefits of the change
ongoing and open, transparent communication throughout the lifecycle of the event and
providing the tools and resources needed for the people, teams or consumers of the change to implement the change.
Does your organization have a Change Management Program? Core elements that you and your teams should consider in implementing a CM program are the following:
I. Establish a Change Management Governance team
Identify leadership and 'agents of change' positions/people that are responsible and accountable to implement a program and make it a part of their core performance objectives. Further these individuals should exemplify a 'change hearty' mindset to help instill behaviors and practices in the organization.
II. Establish a Change Management Model and Toolkit
In managing the process of change, it will be helpful to build a change management methodology and set of tools that can be distributed across the organization. The value of these tools will help all actively support and manage the changes as they are introduced.
III. Training
Once you have developed your CM model and toolkit, you can deploy it through leadership, change champion, manager and employees. This training becomes a 'pact' with all members of the organization by setting the stage on how leaders will implement change and further describes the roles and responsibilities of everyone involved with the change.
IV. Pilot the Change Management program
Select your first initiative to manage under the program. Guide the team throughout the lifecycle of the event. Foster open communications and feedback sessions to learn what is working, what feedback people have, and what opportunities exists so that you can adjust and refine.
V. Assess your results
In post-implementation reviews, take time to assess the overall changes and apply measures of success? Consider the following success factors as a benchmark:
Was my project released on time, on scope, on budget?
How well were the changes received by the staff (or consumers of the change)?
Has employee engagement increased?
What is the adoption rate of the new process, does it meet or exceed our expectations?
With establishing a Change Management model within your organization, you will continue to increase the effectiveness of your organization making it more responsive and more highly engaged.
Read our eBook, Building a Foundation for Regulatory Change to learn more about keeping up compliance change as a market advantage and how to plan ahead.
---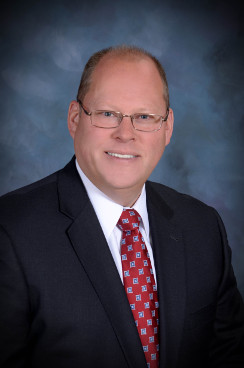 John Paddock
John Paddock is an experienced insurance operations leader with over 20 years' experience working in top tier financial services firms including The Hartford and Prudential Financial. Paddock recently joined Vertafore as a solutions consultant.
---