May 01, 2017
FAQ's: What is a Sircon State and what does it mean for a Carrier or Agency?
As a Sircon user or if you're familiar with Vertafore's Sircon solutions, you may have heard of a "Sircon State" – but what does this mean? We receive questions like this all the time!
First, here is a map of the current Sircon State breakdown. Now let's dive deeper in to what these relationships mean for your business!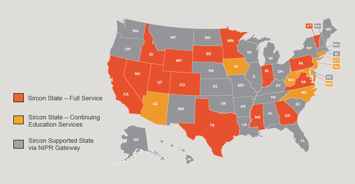 How many states does Sircon work with?
First, let us put you at ease. Sircon works with every state in the U.S. Some states use a Sircon solution within their department of insurance, but since Vertafore is an Authorized Business Partner of the NIPR, States who work with other organizations or are not Sircon customers are supported via the NIPR gateway. Sircon receives faster, inside information on upcoming changes and can complete your business transactions more quickly with these Sircon states.
What does it mean to be a Sircon state?
We provide state departments of insurance an automated, efficient way to manage, processes, and track critical information from carriers, agencies, and producers. The Sircon difference is our ability to flexibly serve each Sircon state department of insurance with state-specific, particular requirements and capabilities in mind. With a team of dedicated people to monitoring the changing regulatory landscape, we help communicate important notices to the market from the state, making them easier to do business with.
With 22 Sircon States today, we're uniquely positioned to provide our industry customers with enhanced services that they can't get anywhere else.
What is the difference between a Sircon State who uses CE services and a state who is full-service?
Sircon CE states can utilize education tracking.
Full-Service Sircon states can manage their state carrier regulation from basic contact information to detailed financial data, keep track of your state's statutory companies, including insurers, HMOs, purchasing groups, non-admitted surplus lines companies, and more.
What are the benefits for agencies and carriers for these relationships?
In CE states, education providers and agents alike can review, update, and find course information online. Electronic processing makes it almost effortless to work with education providers to maintain course information. In full-service Sircon states, they have faster processes with the industry including the ability to:
Generate automation invoices for industry members
Quickly follow-up on consumer complaints and inquiries
Easily manage enforcement actions and track cases
Real-time appointment processing
Track examination information on financial and market conduct
Interested in learning more about Sircon solutions or our state relationships? Contact us directly and we would love to answer all of your questions!
---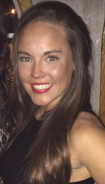 Sydney Beaudreault
Sydney Beaudreault is a Technical Writer – Marketing Specialist for Vertafore's Sircon solution set. Sydney graduated from Michigan State University with a BA in Professional Writing and an emphasis in Public Relations. When Sydney isn't in Vertafore's East Lansing office, you can find her with her dog, Koda, or in the stands cheering on the Spartans.