October 06, 2015
Carriers: This is what Agents Expect from You
By: Neal Hamilton
The never-ending challenge of recruiting the most capable, highest performing producers is full of surprises. What made you stand out as a carrier of choice one year is quickly surpassed by a competitor's new, flashy product or compensation plan. Throw in the technological expectations of the emerging generation of producers and it's enough to make your head spin.
But don't fret. You have one characteristic that you can always count on to make you stand out against the completion. It's something we bring up all the time because it never fails to be the case.
It's what defines you in the eyes of the agent, and makes you stand out as a preferred carrier.
That thing is the experience you create for your agents.
But the question becomes: What makes up a unique and attractive experience?
So we teamed up with Celent Research Director, Karlyn Carnahan, to survey agents and find out what they want and expect from insurance carriers. Then we went and hosted a webinar to share the results!
Click here to watch the webinar, "Driving Growth by Optimizing the Agent Experience."

Did you like this post?
Sign up now for regular email updates with more information on regulatory issues and to learn new ways for you and your organization to thrive.
---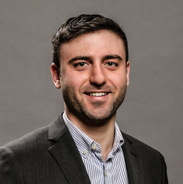 Neal Hamilton
Neal Hamilton is a member of the Vertafore Sircon solutions team where he specializes in insurance carrier and broker dealer markets. Neal is a novice rock climber and lover of authentic barbecue. Connect with him on LinkedIn at https://www.linkedin.com/in/nealh