March 25, 2016

NetVU 2016
By: Sydney Beaudreault
I was blown away at my first ever NetVU Conference. And from my conversations with other first-time attendees, they were just as impressed.
Over 200 customers of Sircon solutions attended including agencies and carriers. In mainly attending Sircon-focused sessions, I had the opportunity to speak directly with Sircon users to discuss their business pain points along with how our solutions help address them.
Every single conversation I had with a carrier was positive, whether it was about the conference or the solutions they use. Some were excited to be able to connect with their agencies and discover solutions to improve agent-carrier communications, others to learn about additional Vertafore solutions that may be of interest to them, and all enjoyed the sneak peak at what's in store for the future of Sircon solutions.
Education for you and for us!
Over 30 product experts were available at the Vertafore TechHub to give one-on-one training. Whether the attendee was a current user or simply interested in leveraging more of the Vertafore products, over 450 users got hands on experience directly from those who know those products best. Senior Product Managers for Sircon's carrier and agency solutions, Patrick Masi and Scott Gillahan, and Product Support Manager, Jason Cousino, were just a few of those experts. In discussing those interactions with customers, Jason Cousino had one instance of note:
"During my conversation with an agency Technology Manager and Senior VP of Commercial lines, both stated that their goal in attending NetVU was to identify how AgencyEDGE could assist with agent license tracking. We walked through the product and each were baffled at how easy the process was and immediately started talking about their antiquated spreadsheets back at the office. The customer was excited to take their new knowledge back to the office to use AgencyEDGE to connect with their 30 agents."
Not only did attendees take away tons of information, but our Vertafore staff also learned from attendees! At the Design Lab and Usability Sessions, we listened and learned to our customers on how we can continue to enhance our current solutions to continue to solve more and more of their day-to-day headaches. It is our biggest opportunity to connect with customers and plan the future of the Sircon solution set.
Carrier of the Year
At the exclusive NetVU awards ceremony, Vertafore announced Nationwide as the Carrier of the Year. Nationwide was Sircon's first customer back in 1997. They continue to leverage Sircon solutions for insurance agency and producer licensing, claims adjuster licensing, securities rep registration, and their carrier appointment processing for producers and agencies. Nationwide has set the "ease-of-use" standard for carriers, after it rolled out ACORD eDocs and ACORD Messages (formerly Activity Notes) in late 2014 with both commercial documents and billing notifications. Today, nearly 600 agents are using eDocs, a number that is quickly expanding. Its latest initiative, pushing adoption of its claims download, has a seen a 50 percent increase in agent adoption within the last year. Nationwide is also investing heavily in other business and technology solutions to improve performance and usability by partnering with Vertafore to identify new and improved integration capabilities.
Speaking of carriers?
This year, there were more Sircon carrier attendees than ever! The NetVU national conference is no longer an agency focused conference. With over 2,000 attendees and nearly 1,000 virtual attendees for the opening and Vertafore keynote sessions, it is now one of the largest and broadest events in the industry.
A sneak peek at the future roadmap of Sircon and other Vertafore solutions was one of many highlights for those attendees.
Did you miss out on NetVU this year?
Those who attended Sircon specific sessions and engaged directly with our product experts were ecstatic at how much information they could take back to their teams.
To drive ongoing engagement with our customers or even enlighten non-Sircon users of our offerings and what's in store for the future, we've recently kicked off our quarterly agency and carrier webinars. So, if you missed out, you still have a chance to get your questions answered.
The carrier webinar was held directly following NetVU on Tuesday, March 8th. Senior Product Manager, Patrick Masi, discussed updates to our carrier solutions and even gave attendees a sneak peek into what's coming next for carriers. Stay tuned for the Q2 webinar in June!
Our agency-focused webinar is coming up shortly on Tuesday, March 29 at 2:00 p.m. Senior Product Manager, Scott Gillahan will discuss the different levels of AgencyEDGE, FAQ's, Tips & Tricks, reveal just a few findings from NetVU, and answer all of the questions you may have about AgencyEDGE. Click here to register for this must-attend agency webinar.
Thank you again to all who attended NetVU. We look forward to more opportunities to engage directly with you!
---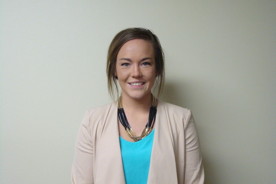 Sydney Beaudreault
Sydney Beaudreault is a Technical Writer – Marketing Specialist for Vertafore's Sircon solution set. Sydney graduated from Michigan State University with a BA in Professional Writing and an emphasis in Public Relations. When Sydney isn't in Vertafore's East Lansing office, you can find her with her dog, Koda, or in the stands cheering on the Spartans.