June 14, 2016
The Buzz from FINRA Conference 2016
By: Chris Gillespie
The FINRA Annual Conference is an excellent place for expanding your understanding of securities regulations and how to implement them at your firm.
Although I have been with the Sircon solutions team at Vertafore for quite some time, this was my first year attending the conference. I've only recently become involved with our securities-focused solutions, so this conference was a great opportunity for me to network with the people impacted by securities regulation and to learn more about what keeps them up at night.
FINRA is there to share their initiatives, recommend best practices, and explain the ongoing changes to the securities regulatory landscape.
In the conference break-out sessions, there are panels of industry members who share their firm's interpretation of various FINRA rules and how they have implemented solutions that match their firm's business. Those panels include a blend of large and small firms, plus FINRA reps to answer questions.
The vibe at the conference is positive, and provides an opportunity for everyone to network with their peers, regulators, and the vendors in their space.
Here are just a few of the key takeaways from the conference:
Why good advisors do bad things
The new DOL Fiduciary rule continues to be a hot item in the industry, and FINRA conference was no exception. FINRA and its member firms are still working to understand the impact this new rule will have on the way they regulate and conduct business. FINRA even dove into the origins of the rule and how advisors may be driven to not act in their client's best interest in the first place.
We all want to believe that the people we work with are inherently good, but what makes good advisors violate securities rules? FINRA's own Richard Ketchum suggests two factors that push advisors in the wrong direction: firm culture and incentive structures.
"We know that the pressure to conform is powerful." Ketchum says in his opening remarks, "If a group engages in unethical behavior, individuals are far more likely to participate in or condone that behavior rather than risk standing out. This idea suggests that institutional culture—and not just ?a culture of compliance'—is really important at firms."
The environment advisors live in will always be competitive, but many firms have incentive structures that could be considered a conflict of interest. FINRA encourages firms to take a look at their compensation structures to determine if they are unintentionally encouraging advisors to cut corners to make sales.
For more on this topic, check out Tim Owen's post on the fiduciary rule.
Supervising outside activities and other conflicts of interest
Many firms struggle to supervise the outside business activities (OBAs) and other potential conflicts of interest that their advisors engage in. The industry panel on OBAs outlined some warning signs to watch out for when reviewing the outside activities submitted by advisors:
How the outside activity is being funded? OBAs often lead to (or hide) unauthorized private securities transactions
Is the amount of time being spent appropriate for the activity?
There is the activity going to occur? If it's at one of your branches, clients will assume your firm endorses and supervises the activity
But what about the activities that your advisors aren't telling you about? The panel suggests keeping your supervisors close enough to notice advisor lifestyle changes (up or down) or behavior changes, such as working hours or frequently working from home. They also recommend taking advantage of social media and other online tools (like www.corporationwiki.com) to periodically search for your advisors.
FINRA does their homework too. Prior to a branch audit, they use lexicon searches to find advisors that are involved with other businesses and cross references those hits with the OBAs the firm has reported to them.
Supporting advisors who also sell insurance
For those firms with advisors who also sell insurance, including dually regulated variable products, the insurance regulatory process is an added challenge. Multiple organizations I spoke with have different people and/or systems handling insurance rules vs. securities rules. This causes an increased burden to keep the two aligned, especially around reportable events. These regulators talk to each other, so if a problem is reported to one and not the other, firms can face fines or worse.
These conversations hit home for me, as the team I'm part of at Vertafore is working on this very problem. I had many takeaways from these conversations, but what struck me the most was the laser focus on the advisor experience. Yes, there are inefficiencies in back office processes, but what's really important is making everything as simple as possible for advisors, so they stay focused on servicing clients.
And, with the Fiduciary Rule potentially removing commission as a differentiator for advisors selecting firms to do business with, the advisor experience will be an even more important factor for firms as a competitive advantage in the near future.
Bridging the gap between front and back office technology
My final takeaway from the conference was on the dichotomy of front end vs back end usage of technology. This is very much in alignment with the focus on advisor and client experience.
Processes that impact new business and the advisor's ability to service clients are leading major innovations in technology. Just look at the sophisticated tech required for high frequency trading, where success is measured in milliseconds. This is a stark contrast with certain back office processes that still require paper forms, with speeds measured in days, weeks, or even months.
It is our job as a technology solution provider in this space to build solutions that not only improve back office efficiency, accuracy, and compliance, but to do so while simultaneously reducing the burden on the advisor.
The mission? Strive to be invisible.
All in all, FINRA 2016 was a blast this year. It was great to spend time with compliance folks and to learn about their day-to-day and how their space is evolving. It was also amazing to see peoples' reactions when we talked about coming Sircon capabilities. When someone's face lights up about something I'm working on — well, there's just no better feeling than that.
Can't wait for next year.
---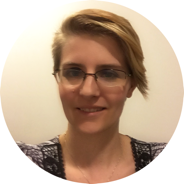 Chris Gillespie
Chris Gillespie is a Senior Business Analyst at Vertafore, where she focuses on usability and agent/advisor experience for the Sircon platform. When she isn't improving the platform, she can often be found hosting designer board games with her friends and colleagues.