August 04, 2015
Carriers: 3 Signs It's Time to Dust Off Your Producer Data
By: Neal Hamilton
It's time to talk about the glaring signs that your producer data is out of date and inaccurate, clogging up your distribution channel services and creating compliance risk for your organization.
In this post I'll help you prime your pipeline and avoid market conduct exam failure by going over the three primary signs that it's time to dust off your producer data.
The three primary signs of poor producer data quality are:
1. Lengthy Onboarding Times
In this day and age, all agents expect one thing: speed. And the clock starts ticking the moment an agent decides to sell for you. If it takes your organization a week or longer to onboard a new agent, there's a good chance you're relying on a system database with out-of-date or 'untrue' producer credential data.
2. Delayed Sales
When your agents are about to close, they need the answer to one question: "Am I authorized to sell?" It's a simple question that deserves a simple answer: "Yes" or "No."
If it takes more thought than that, it's cleanup time.
Far worse yet, if you aren't answering that question until after a sale is made, you need to change something quick, because you're leaving yourself wide open for the next sign of poor producer data quality –
3. Audit Failure
Failing a market conduct exam leads to two things you don't need: A hefty fine and reputational damage. This is why you need to keep your producer data ducks in a row.
If you've ever failed a conduct exam before, you know exactly what I'm talking about. And if a market conduct examiner hasn't visited, I have one question for you:
Will you be ready when they inevitably do?
What do these each have in common?
The thing these signs all have in common is that they can swept away with a few tweaks to your practices and some updates to your systems.
This is why I encourage you to attend the upcoming webinar, Data Clean-Up 2015: Accurate Producer Information When You Need It, where you'll learn about:
Sircon solutions for closing compliance gaps immediately and in the long term
How you can update your out-of-date producer licensing databases
Best practices for avoiding market conduct fines and reputational risk
Improving the efficiency of your sales / agency services operation to boost your bottom line

Did you like this post?
Sign up now for regular email updates with more information on regulatory issues and to learn new ways for you and your organization to thrive.
---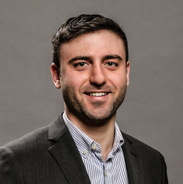 Neal Hamilton
Neal Hamilton is a member of the Vertafore Sircon solutions team where he specializes in insurance carrier and broker dealer markets. Neal is a novice rock climber and lover of authentic barbecue. Connect with him on LinkedIn at https://www.linkedin.com/in/nealh